Barcelona's Olympic Legacy
There is a reason is is referred to as the 'Barcelona Model'.  No city has been able to capitilize on hosting the Olympic Games as much as Barcelona did in 1992.  Taking in the beautiful views of Barcelona from heights of Montjüic, we will visit some of the most important sites from the Olympic Games as well as the Olympic Museum all while exploring the impact the Games had on Barcelona's growth.  Finishing with views of the Mediterranean, no other tour shows you Barcelona from this side!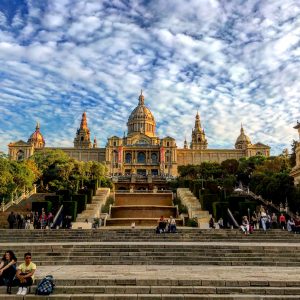 Bespoke Barcelona
Whether it is a stroll through the Old City or being mesmerized by the Modernist architecture of the Eixample, even a combination of the two, Barcelona has so much to see.  Whatever it is you want to see, you decide.  The story of Barcelona will unfold and you can really get to know how this city became what it is today.  Over 2,000 years of history from Roman to Modern times await you in this Mediterranean capital.   If every city has a story this is the perfect way to hear it!
Day Trip to Girona
Girona is a city of sieges, of legends, and even legends about sieges.  This beautifully, well-preserved city offers and experience unlike any other and is always worth the trip outside of Barcelona.  Just a short train ride from Barcelona, we will scale the old city walls, explore the charming narrow and winding streets of the medieval city, and visit the Jewish Quarter all before settling down for a local Catalan lunch!  Filming of Game of Thrones has made the city more popular there days, but even if you have never seen the show, there is a surprise around every corner.
2hr Tour of Barcelona Perfect for Student Groups
This two hour tour of Barcleona's historic center is the perfect tour for student groups. We will visit both the Gothic Quarter and Born neighborhoods, Barcelona's two most historic neighborhoods. With a nice balance of legends, history and fun activities there won't be a dull moment.